Sip n' Snack Pack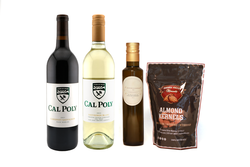 Get your holidays started off right.
This package includes:
1x Bottle of Extra Virgin Olive Oil from Sagouspe Enterprises LLC
1x Pack of Almonds from Sierra Valley Almonds
1x Bottle of 2021 Cal Poly Cabernet Sauvignon
1x Bottle of 2022 Cal Poly Sauvignon Blanc
These were grown and produced on campus, this package was created by Cal Poly WVIT students to showcase a gift idea to sip and snack. It is the perfect gift for all Cal Poly foodie fans!